Starting from Thursday 7 May the libraries will re-activate the loans services, but by reservation only.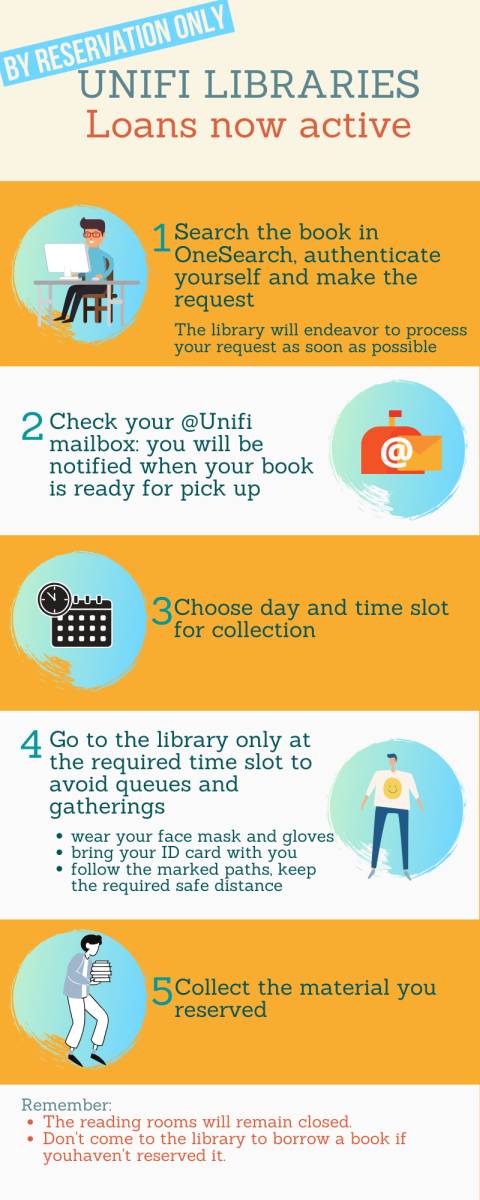 Reservations (requests) can be made using OneSearch starting from Tuesday 5 May with the following procedures:
Find on OneSearch the item(s) you're interested in
Authenticate yourself and make the request(s)
The library will notify with an email sent to the institutional mailbox (@unifi.it, @stud.unifi.it) when the book will be available for collection, providing instructions for booking the time slot in which you expect to be able to go to the library
Since reading rooms will remain closed to the public, users will be able to borrow also the books in those rooms which are not normally allowed for loan except in special cases.
Picking up the borrowed items
It will be possible to pick up the requested items exclusively in the time slot you have requested by going to the library where the books are held.
The service will be available in all libraries from Monday to Friday, 9 am to 1 pm with the exceptions below:
Anthropology and Psychology are closed on Fridays
Loans of books from History of Art and Luigi Crocetti libraries are managed at the Humanities desk in Brunelleschi
Loans of books from the Botany section are managed by the Geomineralogy section
Geography and North American book loans will be managed by Humanities, starting from 18 May
In order to avoid queues and gatherings, libraries will only be able to process a maximum of 50 requests per day.
Only one person at a time can enter the library. No stopping in the rooms.
Users and librarians must wear face masks and gloves.
The volumes to be collected will be placed in a dedicated space and in each location, there will be signs that will indicate the paths to follow and the actions to take.
Returns
From 11 May it will be possible to return books at the marked locations and times.
Returned books are kept in quarantine for 3 days and only at the end of this period the librarians will register their return and made them available again. During this time, the books will therefore still be on loan to users who have returned them. Penalties will not apply.
When returning borrowed items please place them on the designated shelves, which are separated from the outgoing loans shelves.
---
Other services
From 7 May, the digitization service of articles (DD) from print journals owned by the University Libraries will also resume.
The service will operate in the same way as before the closure.
There might be slowdowns in the supply of the pdf copies due to the reduced presence of staff and the reduced opening hours of the offices.
All other in-person services are closed.
The services provided remotely remain active.
For information write to Ask a Librarian.