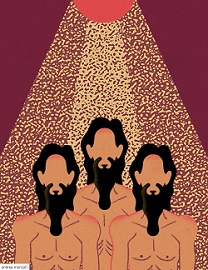 Cloister in Action: the Story of Siddhartha
Humanities Library branch, Corridoio Brunelleschi
Piazza Brunelleschi 4 – Florence
Curated by Eloisa Guarracino with Spela Zidar
From 10 to 27 March 2017
Hours: by appointment, call 380 1468814 or 347 1840689
Inauguration Friday 10 March, at 5.30 pm

6 pm, Sala Comparetti: Readings from Siddhartha by Eva Hesse
The Story of Siddhartha opens on March 10 at
"Cloister in Action"
the exhibition space of the Humanities Library branch located at the Cloister of Levante and Corridoio Brunelleschi. Project by Eloisa Guarracino, created in collaboration with Roberta and Claudio Cesani Madella in the city of Kathmandu and across its valley.
Since then, thirty graphic artists and illustrators have donated their own contribution, a postcard illustrating a salient episode of the story of
Siddhartha
, as is narrated in the famous novel by Hermann Hesse.
The project had the support of the grandchildren of the writer, in particular and in the first person, by Mrs. Eva Hesse, thanks to the gift of her precious watercolor.
Following the earthquakes occurred in central Italy, between August and October 2016, just as severe as those occurred in Nepal, the project could not but expand its radius of attention to these places. As a way of expressing an ideal and concrete solidarity, this joint action aims to unite two countries that are distant for geography, cultures and traditions, but are joined by the same tragedy.
A limited edition of 200 boxes has been created, cointaining reproductions of the 31 postcards made by the 31 artists involved for the 31 selected passages from the Hesse's novel. The collection creates a visual narrative punctuated by different styles, but guided by the same plot:
the story of Siddhartha
, by images.
In occasion of the Florentine opening, Eva Hesse will attend the exhibition and will read some passages from the novel
Siddhartha
. You will also see the documentary film
Mein Groβvater Hermann Hess
e, exploring the relationship between the famous writer and his niece.