Cocchi Archive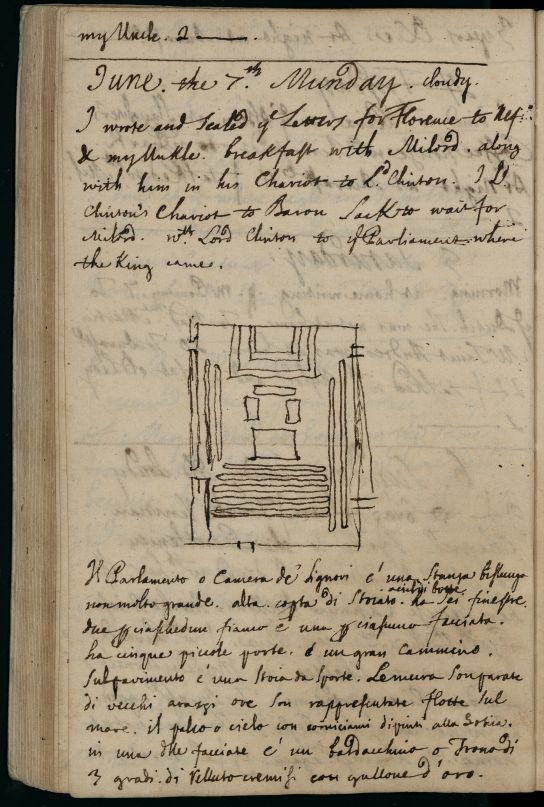 The Cocchi collection is one of the main archival collections kept at the Biomedical Library of the University of Florence.
It comprises about 150 volumes plus a hundred loose papers, documents, and notes that were part of the rich private collection of Antonio Cocchi (1695-1758), multifaceted personality, physician, naturalist, antiquarian, bibliophile, intellectual, and traveller.
The most interesting section of the Cocchi archive contains the 103 notebooks of his Effemeridi, a private diary that Cocchi drew up with a wealth of details from 1722 to 1757, in several ancient and modern languages, noting the most varied information: from the management of personal expenses to the sick treated; from the weather conditions to the people he met, the places he visited and the works of art he admired.
The collection also includes five printed volumes of works by Cocchi. The books probably belonged to his private library and some of them are annotated by the author himself.
The digitized collection virtually brings together the collection of the Biomedical Library with two manuscripts owned by the Botany branch of the Sciences Library, Index plantarum herbarii A. Cocchii secundum classes iuxta Tournef. Methodum..., the result of the exploration and plant collection activity carried out by Cocchi, accompanied also by his friend Pier Antonio Micheli with whom he shared the experience of the Florentine Botany Society, which was then left as a legacy to the Museum of Physics and Natural History by his son.
Antonio Cocchi
(1695-1758) born in Benevento, he lived much of his life in Borgo San Lorenzo (Florence), the place of origin of the family, and for this reason, he used to append "mugellano" (from Mugello, the region where Borgo San Lorenzo lies) next to his signature. He graduated in Medicine in Pisa in 1716. From 1723 to 1726 he undertook a long journey in Europe touching several countries, coming into contact with the major scientific personalities (Newton, Sherard, Pierre Coste) and greatly expanding his training far beyond the medical field. He was a skilled naturalist, member of the Accademia della Crusca, and one of the first followers of Freemasonry, to which he was initiated, as he wrote in his journal manuscript Effemeridi, on 4 August 1732, in a Florentine Loggia that held his meetings in the family palace.
His eclectic formation and the authority reached above all in the academic field led him to deal with important Florentine libraries, the Magliabechiana Library and the Library of the Hospital of Santa Maria Nuova, the seat of the famous Medical School of the same name and founding nucleus of the present Biomedical Library, to which the heirs gave, in several installments, part of his manuscripts and some volumes of his well-furnished personal library which, at his death, counted about 16,000 volumes.