The Sciences Library is contributing the 3 volumes of
Ricordi dei viaggi al Cashemir, piccolo e medio Thibet e Turkestan in varie escursioni fatte da Osvaldo Roero

dei

marchesi di Cortanze dall'anno 1853

al

1875
coming from the antique books collection of Anthropology to the exhibition in Pistoia. See the corresponding
catalogue record
in onesearch.
La rivelazione del Tibet: Ippolito Desideri e l'esplorazione scientifica italiana nelle terre più vicine al cielo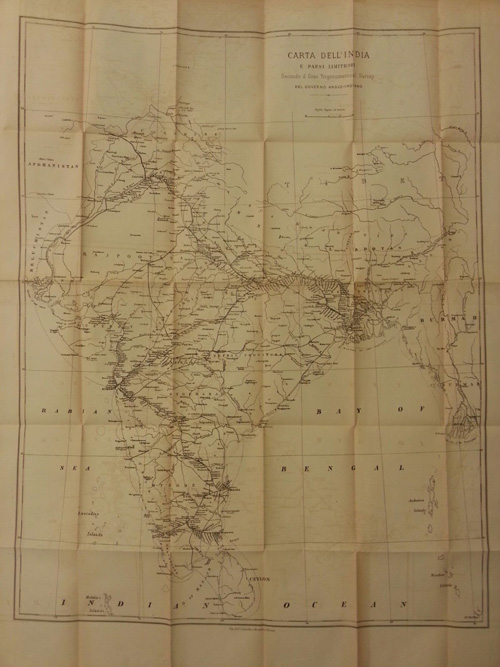 (The revelation of Tibet: Ippolito Desideri and the Italian scientific exploration in the lands closest to the heavens)
Pistoia, Palazzo Sozzifanti
14 October - 10 December 2017
(extended to 7 January 2018)

The exhibition opened on 14 October and is promoted by the Cassa di Risparmio of Pistoia and Pescia Foundation, in the context of Pistoia Capital of Culture 2017, will close on December 10th. Admission is free.
The exhibition focuses on the figure of Ippolito Desideri, Jesuit, missionary, adventurous traveler and among the first experts of the then (early 18th century) little-explored Tibet.
Part of the material presented concerns other explorers and narrators of the so-called "roof of the world" such as Amedeo di Savoia, Giuseppe Tucci, Filippo De Filippi, Ardito Desio and Osvaldo Roero di Cortanze, of which it is displayed a reproduction of the map attached to volume 1 of the work loaned for the exhibition.
Map of India and surrounding countries according to the Great Trigonometrical Survey of the Anglo-Indian Government