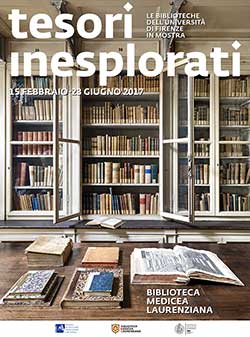 From 15 February to 23 June 2017 (extended until 29th september) the exhibition halls of Biblioteca Medicea Laurenziana, will host "Tesori inesplorati. Le Biblioteche dell'Università di Firenze in mostra", an exhibit of the hidden treasures held by the University of Florence Libraries.
An online exhibition is avalable alongside the material exhibition and will be permanently accessible.
The bibliographic patrimony of the University counts over 3.8 million volumes, many of which are antique, rare or valuable items drawing scholars and researchers from all over the world. A wealth of riches awaiting to be discoovered that the University of Florence is adamant to present to the entire town.

The exhibition is divided into six thematic paths, linked to one another through an ideal dialogue: the human body and its care, natural sciences from the Middle Ages to the modern age; the origins of law; evolving technology; Florence, the Mediterranean and the East; the Twentieth Century.
Cultures face to face in a wide diachronic arch, from antiquity to the twentieth century. From papyri to manuscripts, to printed copies between Humanism and Enlightenment, until the age of the avant garde. The exhibition also offers maps, original drawings, engravings, watercolors and more.
Opening hours: Monday to Friday (excluding public holidays) 9.30 am - 1.30 pm