An invite to Winckelmann. From the collections of the Humanities Library
Curated by Massimo Fanfani
Foyer of the Humanities Library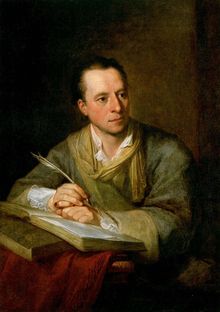 Piazza Brunelleschi, 4 - Florence
11 July - 4 October 2019 (extended until 31 October)
Hours:
Monday - Friday | 8.30 am - 7.00 pm, extended until 9 pm during 15-19 and 22-23 July;
Saturday | 8.30 am - 1.30 pm
Free entrance
Official opening 11 July at 5.30 pm
After the greetings by Floriana Tagliabue, the Library director, talks by Patrizio Collini, Maria Fancelli, Massimo Fanfani, Marco Meli, Rita Svandrlik will follow.
A prominent figure of the European eighteenth century, Johann Joachim Winckelmann (Stendal, Brandenburg, 1717 - Trieste 1768) was a brilliant interpreter of antiquity and the creator of the modern concept of art history as a series of phases projected towards an ideal aesthetic according to the different schools, ages, peoples.
The project of an exhibition dedicated to him was born within the Laboratorio Winckelmann, founded by Maria Fancelli and now directed by Marco Meli, a research institution of the University of Florence aimed at the study of Winckelmann's work and, more generally, of European classic-romantic culture.
The exhibition presents a selection of Winckelmann's works held by the Humanities Library. Some come from book collections of individual scholars and testify that Winckelmann was already taken into consideration not only by art historians and archaeologists in the nineteenth century: suffice it to mention the considerable amount of Winckelmann volumes in the Comparetti Collection. Others come from subsequent acquisitions of the Library, including several recent contributions following Winckelmann's double anniversary of 2017-2018.
The event is part of the MusArt festival 2019 initiatives.