Serbia and the Serbs
1914 - 1918
Exhibition of the Serbian Archive
curated by Miroslav Perišić and Jelica Reljić
Corridoio Brunelleschi and Chiostro di Levante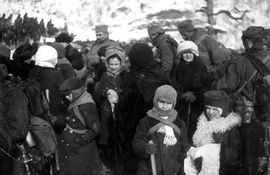 Humanities Library
Piazza Brunelleschi 4, Florencee
20 - 31 May 2019
MOnday to Friday 4 - 7 pm
Free entrance
Opening: Monday 20 May at 6 pm
With the participation of H.E. Goran Aleksic, Massimo Fratini, Marcello Garzaniti, Miroslav Perišić e Simone Malavolti
The exhibition bears witness to the events experienced by Serbia and its people during the First World War, through documents and photos taken from the archives and collections belonging to the Serbian State Archive.
The documents, presented here in copy, concern the beginning of the war, the bombing of Belgrade, the battles of Cer and Kolubara, the crimes against the civilian population, the fate of the Serbian people under the Austro-Hungarian and Bulgarian occupation, the withdrawal of the Serbian army and civilians across Albania, etc.
A special emphasis is given to Serbian-Italian relations between 1914 and 1918, illustrated by documents that testify to diplomatic, cultural, educational and military exchanges between the two states. In this thematic part of the exhibition, the memory of the Italian soldiers' gestures in Valona in 1916 stands out, burying the Serbian soldiers and erecting a monument in their memory, as well as evidence of the schooling of Serbian students in Italy.
[Photo: The retreat through Albania in 1915. Photo credit: Samson Chernov (Archive of Serbia)]