Student borrowing card (Carta dello studente)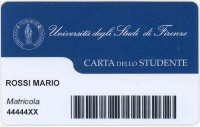 The student card is strictly personal. It shows the name and surname of the student, their ID number and their status, which is encoded both on the magnetic stripe on the back and on the barcode.
What is it for?
The card enables the student to borrow from any of the libraries of the University.
It is also necessary to swipe it to gain access to the Social Sciences Library at the Novoli campus and the Piazza Brunelleschi branch of the Humanities Library.
How do I get it?
All students get issued a card at the time of matriculation in a new programme. If they change course of study their student ID number will change as well and so they will be re-issued a new card.
The card is delivered by post to the address given at time of enrolment.
Most students get their card in the month of December, whereas for those who did not complete their enrolment by the December mailing will receive their card by February/March
In case of loss or theft it is possible to get a reprint of the card directly at the chosen library.
last update: 11-Feb-2016