Documentary exhibition curated by Irene Gambacorti and Gabriele Paolini

Humanities Library, 26 September – 30 October 2018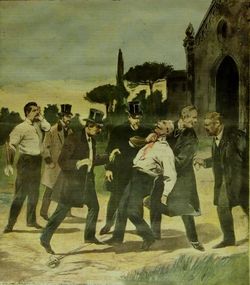 Monday to Friday, 8.30 am - 7.00 pm

Opening 26 September at 5.00 pm
Sala Comparetti - Piazza Brunelleschi, 3

In the decades following the Unification of Italy (1861) Unità, in contrast with what happens in the rest of Europe, the recourse to the duel in Italy intensifies and spreads, finding cultural legitimacy and a broad media echo.


The exhibition intends to recount some moments of the forgotten history of this "institution" which, founded on knightly laws and codes of honor of ancient tradition, resists until the Great War and the Fascist decades, providing for a long time the new ruling class with myths and identity rites, which find frequent expression in literature and theatre.
Inserted within the interdisciplinary research project titled Scontri di carta e di spada: il duello nell'Italia unita tra storia e letteratura (Clashes between paper and sword: the duel in United Italy between history and literature), funded in the 2016 RTD University call for competitive projects, the exhibition will present works from the Humanities, Social Sciences and Anthropology Libraries and the Luigi Crocetti Library, but also documents from external institutions such as the Forteguerriana Library of Pistoia, the Fondazione Spadolini and the Istituto Geografico Militare in Florence

The virtual version of this exhibition, also outcome of the project, will be created in the collaboration with the Humanities Library and will be published in the spring of 2019.