Precious documents coming form the special collections of the Animal Biology Library, recently relocated to the Sciences Campus Library, are juxtaposed with the photos of flamingoes took a few metres away in the Oasi del Parco della Piana.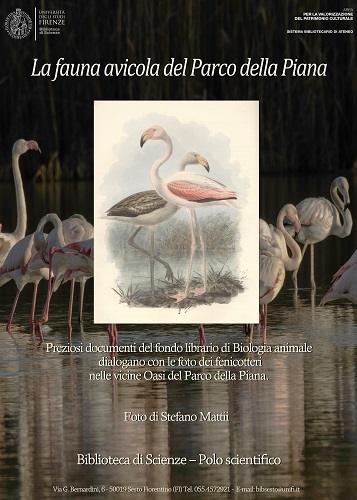 The arrival of flamingos at Lake Peretola, in an intact ecosystem, creates the right atmosphere to highlight rare texts, with images of extraordinary colours.
The documents on display testify to the beauty and fragility of some species of birds, the study and the passion that through the centuries have led ornithologists, biologists and explorers to observe and describe specimens that, during their migratory routes, stop within walking distance from the Sciences Campus.

Special thanks to Stefano Mattii for the evocative images of flamingoes that accompany the exhibition.
Sciences Library - Sciences Campus
Via G. Bernardini, 6
50019 Sesto Fiorentino - Florence -
Monday to Thursday: 8:30 am - 6 pm
Friday: 8:30 am - 2 pm
Closing date: 30th April
*** Extended 30 June 2018 ***

Download the flyer