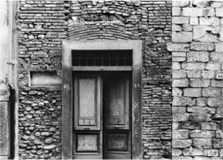 Opening: 28 September 2017 at 5 pm
Hours: Monday - Friday 9.00 am - 6.30 pm
Duration: 28 September to 13 October
Palazzo San Clemente, via Micheli, 2 - Florence
Black and white photos that are a testimony, an open window on the past that allows us to "read" the city, though only through moments of social life stuck in the eye in the scene that characterizes the city of Pistoia, made of streets, walls, monuments, but also people who shop at the market, participate in celebrations, or work ... in short, images open, in particular, to anthropological reflections.
It is not intended as a nostalgic vision of "a time that was", dictated by the memory of the young age, which as a screen hides everyday vicissitudes, or allows one to see only what one wants to see...
The city flows in silence through the photographs that give us the disillusionment of an anachronism, useful to distance ourselves from the present and to look at the necessary detachment of contemporaneity. "It's not an easy task," remembers Alberto Vivarelli, "but Dami's photos do not need to be explained because they have a soul; just look at them and you're brought back to those days, into those events."
Strong feelings, emotions are stirred in us with a light touch by Andrea's photographs.