Antique recipe books at the Biomedical Library
Satellite exhibition to
"HIDDEN TREASURES. THE LIBRARIES OF THE UNIVERSITY ON SHOW"
4 APRIL - 20 JUNE (Tuesdays only, from 2 to 6 pm)
For groups (min. 10 people) bookings are mandatory: ph: 055 2751370, visits can be arranged during other times as well.
Location of the exhibition:
BIOMEDICAL LIBRARY
Largo Brambilla, 3, pavillion 5
Firenze
Free entrance

In conjunction with the main exhibition of ancient books and manuscripts of the five University Libraries, open until June 23 at the Biblioteca Medicea Laurenziana, the Biomedical Library offers to the public the opportunity to consult on its premises inside the Careggi hospital twenty antique volumes, including some manuscripts on medicinal herbs and even printed editions of the first official pharmacopoeias appeared on the Italian and European territory.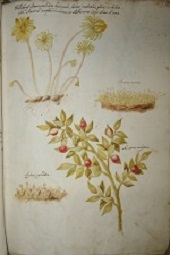 In particular, you can admire beautiful collections of original drawings of medicinal plants and specimens from the XVI-XVIII centuries of the so-called "Florentine Recipes", the first Italian Pharmacopoeia. It was edited by experts of the Medical College of Florence, and published at the behest of authority formed to standardise the prescription and preparation of medicaments in order to fight charlatans and illegal practitioners. It contained precise rules with an indication of the penalties in the event of failure to comply; so, unlike the "books of secrets" or other treaties of sole authors on how to treat diseases displayed in this exhibition, the "Florentine Recipes" is an official document, "of which every Speziale was obliged to have a copy made" since its first edition (1499) and follow its rules, not to incur the penalties imposed on the basis of the body of the reports of the "visitors of spezierie (chemist shops)."
Poster