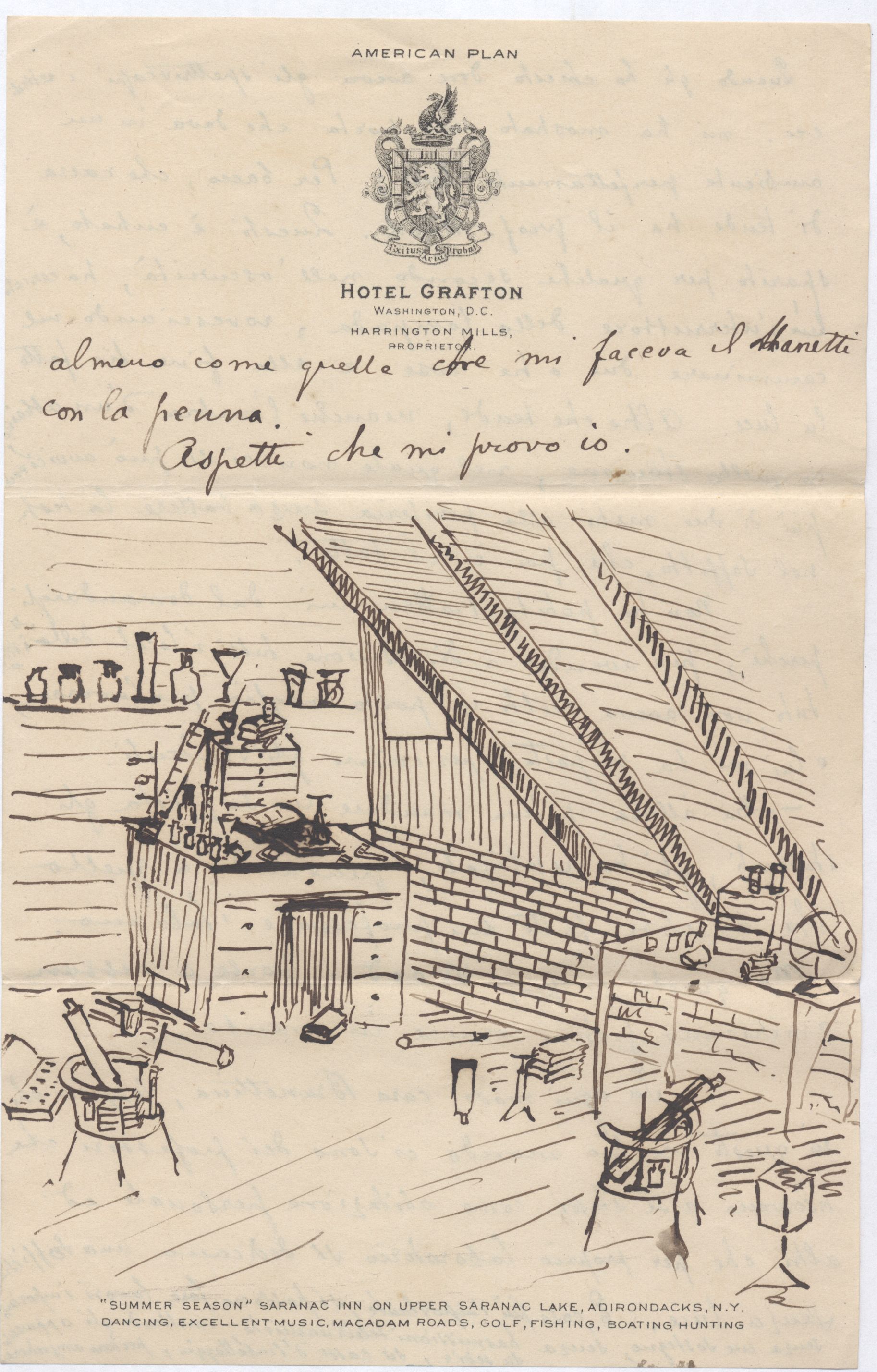 Professor Robert W. Wood's laboratory at
Johns Hopkins University of Baltimore
(drawing by Augusto Occhialini)

From 25 May to 30 September 2016 at the Council Historical Archive in Via dell'Oriuolo 35, Florence will be held the exhibition
"Physics in Arcetri: from the establishment of the Royal University to the racial laws of 1929".
Exhibits include letters by Rita Brunetti, Antonio Garbasso, Augusto Occhialini, Giorgio Abetti coming from the Michele Della Corte archives in the Sciences Library.
The exhibition is divided into four sections and maps out the evolution of the Institute of Physics from via Gino Capponi (now housing part of the School of Humanities) to the new premises built on the Arcetri hill under the impulse of Antonio Garbasso and opened in 1921.
Photos, documents and vintage instruments highlight and testify the strong spirit of collaboration and friendship that was a feature among the most illustrious physicists of the time. This was later defined the "Arcetri spirit" by the physicist Bruno Rossi; unfortunately it had an untimely and abrupt ending with the introduction of the ratial laws.
The manuscripts and paper documents that belonged to Michele Della Corte were donated to the Sciences Library by his daughter and are held now in the Sciences Campus library branch in Sesto Fiorentino. They include two collections of letters and miscellaneous notes, calculations and measurements written by Della Corte, professor at the University of Florence. Besides the correspondence there is also a small collection of 80 volumes and many photographs entirely digitalised. Part of the documents is related to Della Corte's anti-fascist activity and the historical period of Resistenza.
The Della Corte archives are also recorded in the SIUSA (Sistema Informativo Unificato per le Soprintendenze Archivistiche) database.
Letter to Rita Brunetti 1918