AT THE ORIGINS OF DWELLING
notes of a journey through time
Meeting with Ugo Tonietti
Wednesday 20 March 2019, at 5 pm (Sala archivi e fondo storico)
exhibition Viaggio fotografico di Ugo Tonietti with a bibliographic display curated by the Library 20 March-5 April, 2019 (Archispazio, open form Monday to Friday 9 am - 6 pm)
Location: The Architecture Library - Palazzo San Clemente - Via Micheli 2 - Florence
The meeting with Ugo Tonietti and the photo-bibliographic exhibition are organised as part of Le Archistorie della biblioteca series of events: book presentations, experiences, projects…
Archistorie originate as a link and recognition to the teaching and activity of Luca De Silva and want to represent its ideal continuation.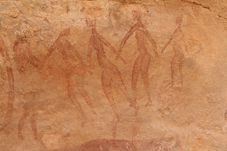 A look at dwelling in pre-historic conditions when our ancestors, still tireless travelers, did not think of architecture as a construction but filled the world with sounds, images and products of their imagination. The dwellings of the Palaeolithic and Neolithic, read through the paintings and the rock carvings, gives a poignant message on the nature of the first steps of humanity, characterized by a pervasive artistic activity. The opportunity to dive in regions far from tourist flows or assaulted by modernity - exploited thanks to the missions carried out in Africa, Asia, Latin America in the study and protection of cultural heritage and vernacular architecture - allowed the speaker to collect rare material on the dwellings of the origins. From the deserts of the Sahara and Atacama, to the Anatolian regions, the Cantabrian or Pyrenean caves, a migrant population, substantially peaceful, is preparing for the "leap" of permanency (...and here it comes to mind what we may have lost).

Ugo Tonietti has published the book L'arte di abitare la terra (The Art of Inhabiting the Earth) with L'Asino d'oro Edizioni, Rome 2011. He is an associated professor of Construction Science and coordinator of the curriculum Structures and Restoration of Architecture and Cultural Heritage of the PhD School of Architecture at the University of Florence.
More information: Technology Library – Architecture, ph. 055.2756400/1 – Via Micheli 2 – Florence