Humanities Library - History of Art Branch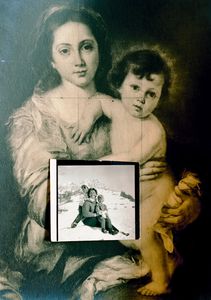 Via della Pergola 56, Florence
21 February - 25 July 2019
Hours: Monday to Friday 9 am - 7 pm
Free entrance

Opening
Thursday 21 February at 5 pm
The exhibition, organized by Associazione Forme in collaboration with the Humanities Library of the University of Florence and curated by Erica Romano and Silvia Bellotti, stems from the desire to enhance the library complex through the gradual installation of ten works of art of as many contemporary artists from all over Italy: Adriana Amoruso (Trani, 1991), Sara Colzi (Florence, 1990), Rosita D'Agrosa (Polla, 1989), Raffaele Di Vaia (Turin, 1969), Tiziano Doria (Venosa, PZ , 1979), Gabriella Furlani (Maracay, Venezuela, 1951), Franco Ionda (Florence, 1946), Mom3nto [Miriam Bettarini & Franco Spina] (Florence, 1991 and Cosenza, 1992), Federica Rugnone (Prato, 1987), Chiara Spataro (Como, 1974).
Between February and June, six groups of works will be presented at a one month apart from each other, with a prolonged set-up operation that will turn on a small light each time in a different point in space.
The monthly presentation of the works will be accompanied by free admission gatherings, called Bibliotalks, open to all citizens, during which students, library users and various audiences will have the opportunity to know and interact directly with the artists and with the curators. The stages of this long artistic itinerary will culminate with a final event to be held in June 2019.
Using different means of expression (from painting to photography, from installation to performance), the artists will offer their own interpretation of space, reworking in a contemporary key, feelings and symbols such as motherhood, hospitality, care. The intent is to create a silent dialogue between the works on display and the historical memory of the place that now houses the Library of Art History: the ancient deconsecrated Church of the Orbatello (1372), in turn inserted into a complex called Ospizio dell'Orbatello, intended to accommodate the most needy families, in particular widows with children and, from 1704, at the behest of Cosimo III, alos the so-called "pregnant women in concealment", which took refuge there to give birth anonimously.
Schedule of the events
Thursday 21 February, at 5 pm | opening Raffaele Di Vaia and Tiziano Doria
Bibliotalk with Raffaele Di Vaia
Thursday 14 March, at 5 pm | opening Adriana Amoruso and Gabriella Furlani
Bibliotalk with the artists
Thursday 11 April, at 5 pm | opening Rosita D'Agrosa
Bibliotalk with Rosita D'Agrosa and Mom3nto [Miriam Bettarini & Franco Spina]
Thursday 16 May, at 5 pm | opening Sara Colzi and Federica Rugnone
Bibliotalk with the artists
Thursday 13 June, at 5 pm | opening Chiara Spataro
Live painting by Chiara Spataro, Bibliotalk with Tiziano Doria
Thursday 27 June, at 5 pm | opening Franco Ionda and Mom3nto [Miriam Bettarini & Franco Spina]
Bibliotalk with Franco Ionda, performance by Mom3nto
* this schedule may undergo changes that will be communicated in advance