MetroMoebius

Photographs by Leonardo Brogioni

Exhibition curated by Lucilla Saccà
Humanities Library - Corridoio Brunelleschi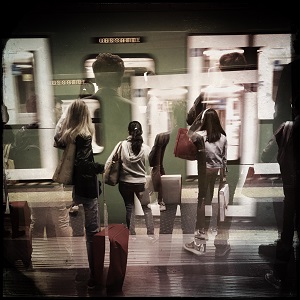 Piazza Brunelleschi 4, Florence
13 February - 2 March 2019
Hours: Thursday and Friday: 5.30 - 8.30 pm
Saturday: 4 - 7 pm
Other times by appointment: leobrogioni(AT)gmail.com
lucilla.sacca(AT)unifi.it – infouma(AT)unifi.it
Free entrance

Opening
Wednesday 13 February at 5.30 pm - Corridoio Brunelleschi
MetroMoebius is a trans-media narrative project, telling the life that flows by in the Milan Metro subway.
It is the story through images of an underground world, which constitutes the other half of the metropolis and, in the eternal challenge between reality and fantasy, is conceived in the disturbing dimension of the Moebius strip, full of metaphorical meanings.
The title chosen refers to the story by Joseph Deutsch, A Subway Named Moebius, where a Boston subway car with 350 passengers on board disappears into the infinite topological complexity of the network; a fascinating subject re-used many years later in the film Moebius by Gustavo Mosquera, which - by shifting the setting in the Buenos Aires subway - accuses the tragedy of the Desparecidos.
Brogioni's work is far from utopian ironies and political denunciation and instead presents a sensitive anthropological analysis.
"Texts, audios, videos and photographs of MetroMoebius", explains the artist, "recount the slight mental estrangement that accompanies us, travelers of the subway. The absence of natural light, the lack of a landscape beyond the window, the seriality of the stops, the space-time sharing between strangers, make it a means of transport that by its nature invites introspection. I have always been fascinated by the connection between space and time, which together can be transformed in speed or slowness, in anticipation or in delays. The subway manages to suspend these differences in a kind of urban teleportation that projects us from place to place in an indefinite time and out of our control. In the middle our mind is wandering: figures that pass as fast as hours that seem seconds or remain motionless for seconds that seem hours."
MetroMoebius has been published online in 2015, in a web-doco where Leonardo Brogioni's photos and videos accompany the story by Angelo Miotto.
MetroMoebius radio project dates to 2017, with Elio De Capitani as the narrating voice for the frequencies of Radio Popolare Milano.

The book MetroMoebius was published in 2018 by Milieu and it collects Leonardo Brogioni's images together with the texts by Angelo Miotto.