Pier Antonio Micheli: from excursions to manuscripts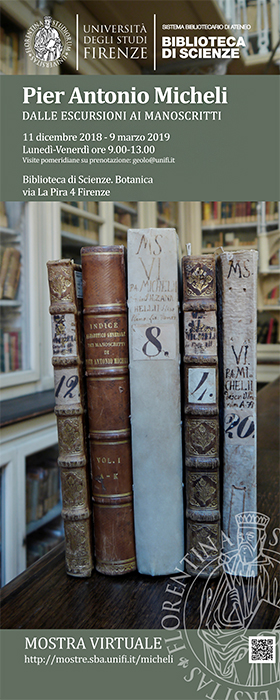 Sciences Library. Botany
Via La Pira, 4 - Florence
11 December 2018 - 9 March 2019

Show extended until 14 June 2019
Hours: Monday to Friday, 9 am - 1 pm
Afternoon visits on request: geolo(AT)unifi.it. Free entrance.
Opening: Tuesday 11 December 2018, at 10 am

The manuscripts of Pier Antonio Micheli held by the Sciences Library constitute a valuable historical-scientific heritage.
The exhibition, which offers a limited but significant selection, is inspired by the report of the Extraordinary General Meeting of the Italian Botanical Society of 28 May 1938, for the 50th anniversary of the Society, which took place in the historic hall of the Botany Library and also commemorated the bicentennial of the death of Micheli. In the same space as back then, the display presents some of the relics exhibited on that occasion and shows new ones to give proper emphasis to this precious collection, already known to specialists.
Maximum emphasis was given to the manuscripts with illustrations, from those attributed to Tommaso Chellini and Giovanni Bonechi, to those attributed to the hand of Micheli himself.
The display accompanies and expands the virtual exhibition Pier Antonio Micheli: from excursions to manuscripts that aims to give visibility and prominence to the figure of the scholar and botanist that was part of the Medicean court of Cosimo III and in 1716 founded the Florentine Botanical Society, is the father of modern mycology and the creator of a remarkable herbarium currently kept at the Museum of Natural History of the University of Florence.
The digitization of Micheli's manuscripts is currently in progress. Some of them are already fullyaccessible on Impronte Digitali.