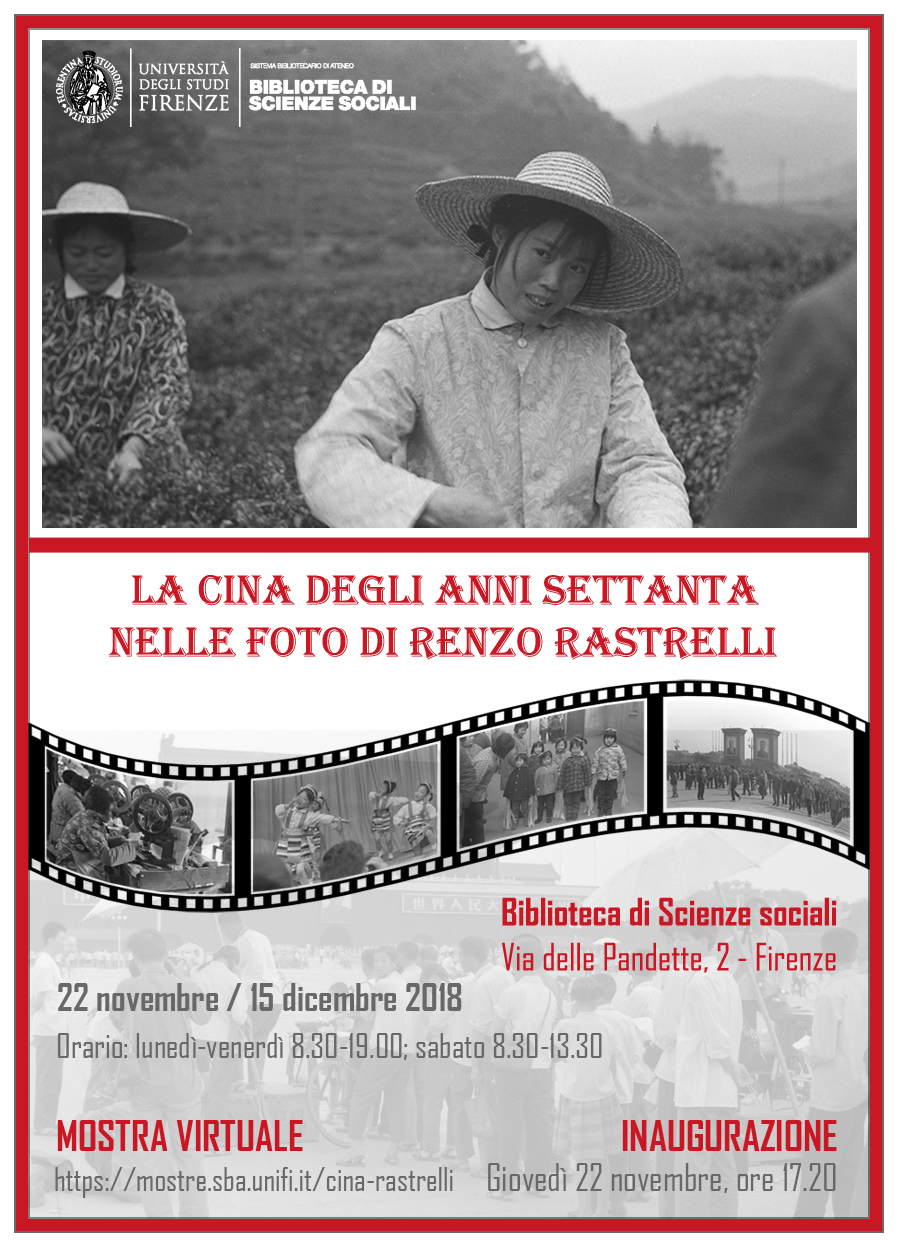 Social Sciences Library
Via delle Pandette, 2 - Florence
22 November - 15 December 2018 (extended until 15 January 2019)
Hours: Monday to Friday 8.30 am - 1.30 pm
Free entry
Opening: Thursday 22 November 2018 at 5.20 pm
The exhibition traces the Chinese stay of Renzo Rastrelli from September 1975 to August 1976.
The winner of a study grant from the Ministry of Foreign Affairs, Renzo Rastrelli studied for a year at the Beijing Institute of Languages. He had the chance to experiece first-hand China's reality in a delicate and eveolving period. In January 1976 Zhou Enlai died, followed by Mao Ze-dong only a few months later. The atmosphere of tension for the imminent death of Mao and its effects on the Chinese State are very much felt in the letters Rastrelli sent to his wife Franca Bonichi, in his impressions and reflections on the Chinese society, with its static and conformist traits.
In the photos taken during the stay in Beijing and in the two trips organized by the Institute in February 1976 in Hangzhou, Shanghai and Nanjing and in July in Wuhan, Changsha and Guilin, Renzo Rastrelli offers new and interesting ideas relating to the knowledge of China in those years: from the people's communities of Hangzou to the textile factories of Beijing; from the families gathered in the Summer Garden to celebrate October 1, to the curiosity of the Chinese for foreign students; from the very long dazibao along the university walls to the parades and folkloristic shows.
Valuable testimonies of a vanished world.
The exhibition set up in the Library is flanked by a permanent virtual exhibition, which replicates and integrates with other images and documents, the physical exhibition.
It is divided into two parts: the first, "Archive of Images", presents part of Rastrelli's photographic documentation subdivided into four thematic sections (Rural Communities, Urban Contexts, Factory Work, Politics, Sports and Culture); the second part, "Letters by Renzo Rastrelli", presents a transversal path outlined by the private letters sent to his wife, a rich repertoire of thoughts and precise descriptions gained during his stay in China and his trips to the main destinations of those years.